You are visiting the English version of our website. 
Please note that only a part of the site is displayed and some contents could still be in Italian.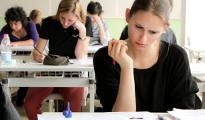 The University Language Centre (CSAL) is a point of reference for all foreign language studies.
Our experienced language teachers will help you to organize your language studies, and will guide you in your preparation for the curricular language tests on your course syllabus. They will also assist you in developing the skills you need to pass internationally recognized language exams.
Each year the Language Centre organizes seminars and classes for English, French, German and Spanish which are open to all UNIVPM students.
The Language Centre also welcomes international students and professors, providing Italian language classes which help them to get involved in the life of the University.
Using the material available in the CSAL self-study centres, all our students can integrate their language studies and improve their language skills in a quiet and relaxing environment.

eLOCAL  is a European project for incoming and outgoing students on international exchange programmes (Erasmus, Campus World, etc.).
It offers online language courses (free of charge) for beginners , going up to A1 level so as to allow students to deal with the basic necessities of everyday life in the host country, even if another language will be used for their university studies.
The courses also introduce some cultural aspects of the country.